As I fight the brutal yet beautiful fight to live in grace and allow God to bring me to Christlikeness and to resist sin and addiction, I have noticed that there are three concentric circles of people with whom I must relate. I start with the outer circle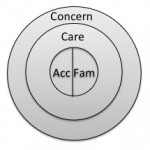 and move inward.
The Circle of Concern
Those that hear of your struggles, addiction, battles and are truly concerned. They will call or text, and if they cannot reach you, they'll begin pinging others who know you to see if they know anything about your condition. Often they feel they need to fix the situation. Many times they are attempting this fix to fix how they feel–ex. so they can feel better they did "something," at least. Oftentimes, I am tempted to meet with them when their voice their concern, even if I know this isn't healthy for me to spread my battle this thin. These people were frequently not deeply involved in my life before and perhaps something within me knows they shouldn't be  in a more inward circle–geography, loose lips, lack of wisdom, or simply because my inner circles are already full of good folks , etc. I need briefly thank them for their concern via text or email and let them know you people supporting you. I feel I don't owe them long explanations, if any.
The Circle of Care
These are the people who I do talk to much more often. They are typically those who were already deeply involved in my life, maybe before they knew all that was going on or maybe not. I need to let them remain in my life and interact with them, not push them away in shame or embarrassment. Some don't know how to relate to what I an going through and some do. I need to simply receive their love.
The Circle of Accountability- 1/2 the Bullseye
This, for me, needs to be a much tighter sub-group of one or two people in my circle of care.  In the past I would do my spread my accountability across too broad a group of people. In this way, different guys no different slices of what I was struggling with, but no one really had the "whole pie." I am know realizing the importance of having a single point of accountability or what some call a sponsor. I need this to be only one or two men. I don't want them to do it if they are merely doing me a favor or if they feel they don't have the margins of time to function as in the role well. I am also very selective and have some key criteria for who this needs to be. I feel like God has provided 2-3 people who fit and desire to ask two of them to serve in this role. Spill your guts to these people, the good, the bad and the ugly. Deal with both inner-emotions and outer behaviors.
The Circle of Family- The other 1/2 of the Bullseye
The brutal, bloody fight against sin most definitely impacts and involves my family to a larger degree than anyone else. These are the most important people in my life. While they cannot be my primary accountability, as that is not healthy for me or them, I need to be open with them to foster intimacy, by letting them "in-to-me-see." I want for them to feel and understand, and me to feel and understand the deep sense of attachment and love I have for them. Be open about what I am learning and listen to them. Love them and receive their love.

I don't need to confuse these circles or spend the wrong amount of time and energy with the wrong circle. Understanding my circles will be valuable to my journey and fight. This will provide me a clear community map.